Get answers to the most frequently asked questions here.
If you have any further enquiries, please don't hesitate to contact us. We'd love to assist you in all matters regarding Elderly Care.
Contact Us
1. What's the process of signing up? Any required documents?
It is compulsory for the elderly to have undergone the Covid-19 swab test before the admission date and inform the management regarding the results as WSR reserves the right to accept elders with a negative result. Please do bring along the test result as well.

If the elderly has been discharged from the hospital and sent straight to WSR, please bring the discharge note from the hospital.

Medication History

IC

Pension Card (if any)
2. What should I bring to the home?
Everything will be provided except for:
Clothes/sarong/pants (enough for 7 days)

Toiletries

Titbits

Medicines in original packaging

Wheelchair/walking stick (if needed)
3. In case of emergency, do you have an ambulance service in Woodrose Senior Residences?
We have an Ambulance on standby 24/7.
4. Can relatives stay with elders?
Relatives are allowed to visit according to our daily visiting hours.
5. Can I make an advance reservation?
6. What are your payment requirements?
Admissions and registration has to be paid in advance prior to admission date.

Monthly payment is with a grace period of 7 days.
7. Can the rooms be personalised?
No. Each room is already furnished and decorated according to the House's theme.
8. Is there a choice of food?
Food is prepared in our Central Kitchen. Menu has been chosen by our Nutritionist and suitable to be served to all Elders.
9. How will I know whether you offer the right level of care for the elder?
By visiting and witnessing our daily activities.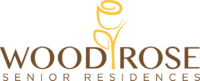 WOODROSE SENIOR RESIDENCES
(207075-U)
Head Office
No. 3, 2nd Floor,
Jalan Tengku Ampuan Zabedah E9/E,
Seksyen 9, 40000 Shah Alam,
Selangor Darul Ehsan,
Malaysia.
Tel: +6014 299 1295
Enquiries: +6012 709 8102
Careline: +6012 433 8102